Salma Hayek, along with Ashley Judd and Annabella Sciorra, presented a segment on the Time's Up movement that highlighted the importance of changing the culture in Hollywood, Sunday night at the 90th Academy Awards Ceremony. The Mexican actress was one of Harvey Weinstein's most prominent accusers, along with Judd and Sciorra. 
MORE: Salma Hayek Reveals Harvey Weinstein Threatened To Break Her Kneecaps
During the segment, the Academy Award nominee said, "So we salute those unstoppable spirits who kicked ass and broke through the biased perceptions against their gender, their race and ethnicity to tell their stories."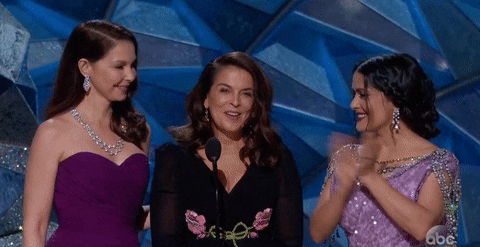 The Emmy-award winner spoke out against Weinstein last December, two months after the original exposé had been published by the New York Times. In an interview with Oprah Winfrey, she said that she took so long to reveal her own truth with the disgraced producer even though she was asked to be included in the original news story. She added, "And then I felt ashamed that I was a coward. I was supporting women for two decades and then I was a coward." She also revealed that he would uninvitedly come to her house at odd hours and in one instance threatened to break her kneecaps.
Although the trio was "so full of emotion and a little bit shaky," Hayek introduced a video that honored 2017's champions for diversity and intersectionality in film. In the video package, she challenges the film industry, saying, "the industry has to become sincerely curious about the human essence that has become invisible behind stereotypes." The film Beatriz at Dinner, which stars Hayek, was highlighted in the video. The movie is about an immigrant who works as a California-based health practitioner who spends an evening with a group of white, upper-class couples. the Mexican actress also said that "Only thorough originality we can really get to the heart of real human stories"
PLUS: Salma Hayek's Golden Globes Dress Will Be Auctioned for Time's Up
The three survivors honored other champions of the #MeToo and #TimesUp movements who have vowed to do their parts to ensure that the next 90 years in Hollywood are nothing less than inclusive, intersectional, safe, and empowering.